Buying the Right Helmets is not just limited to buying safety for your head. The helmet is a thing that provides safety to your head with comfort.
For helmets, you can't compromise material quality. There are many different riders who have their own style to ride a bike. Road transport and highway data show that one-third of accidents on the road occur due to not wearing a helmet.
So, when you go for buying a high-quality, comfortable, and affordable helmet for your next ride, you must read this article. Here, let's discover the essential factors to consider for a helmet.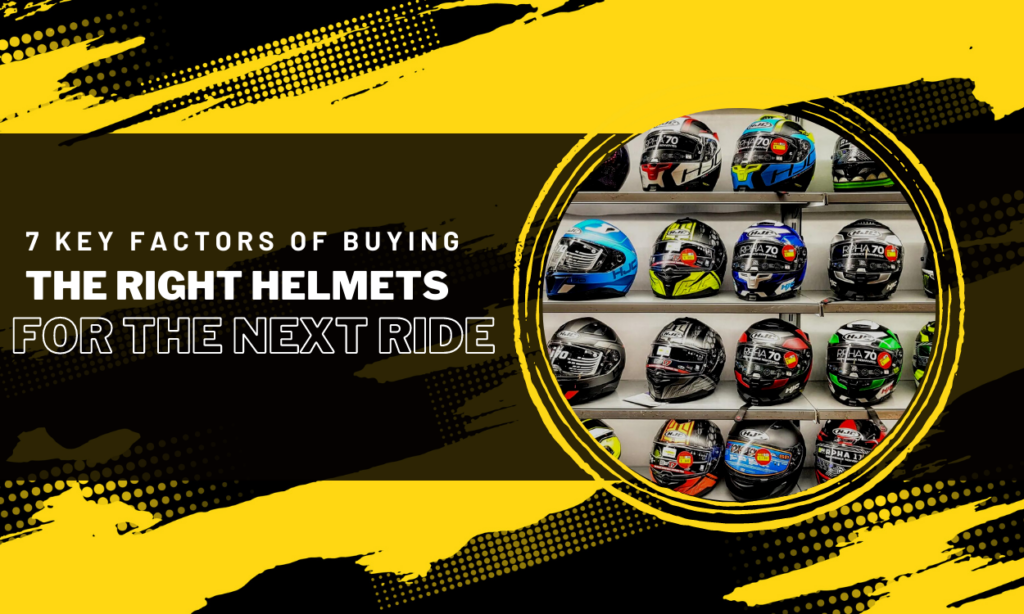 Look Also: 10 Must-Haves Gear for Motorcycle Riders
Buying the Right Helmets for the Next Ride factors
1. Understand the Right Size
In the market, you can see different types of helmets based on your head style and design. You can see the size of the helmet start from XXS (for kids) and goes up to 4XL. The helmet provides maximum comfort when you choose it based on your head style.
Generally, people have three common types of head shapes that are round, intermediate oval, and long oval. You need to click a picture of your head from the top to determine the right head shape. For better clarity, you can use tape to measure the right shape of your head. You will find intermediate oval head shapes in most cases.
You can understand this measurement that will help to buy a helmet online.
2. Type of Helmet style
There are many different helmets available based on different styles and purposes. It includes full-faced, half-faced, dirt, off-road, modular, and so on.
First of all, you need to identify your need to buy a helmet. A general full-faced helmet is the most popular option for bikers. But the quality and style of the helmet make the main difference.
Half-face helmet: A normal full-face helmet and a half-face helmet are more than sufficient for slow riders. They are popular and affordable options between cruiser, vintage, and scooter riders who prefer a retro look. These helmets do not provide enough safety to your chin and face.
Full-face helmets: These are a popular choice for motorcycle riders. It provides full-face protection to riders including the face, chin, and jaw areas. These helmets look stylish and can be the best option for young street riders.
Modular helmets or flip-up helmets are working as both a full-face and an open-face helmet. The full-face mode provides full-face coverage, shielding the rider from debris, wind, and other impacts during rides. You can flipped-up the chin bar of the modular helmet to convert it into an open-face helmet.
Off-road helmets are specially designed lightweight helmets for off-road riders. They feature a distinct shape with an elongated chin bar and a pronounced visor to provide maximum protection from flying debris, branches, and roost. These features provide maximum coverage from flying debris, branches, roost, dirt, and accidents. Also, you can buy goggles separately for helmets.
3. Try the helmet on
After choosing the helmet style and size that is best fit as per your preferences. Now, try to put it on your head and see the comfort of the helmet. If the helmet comfortably fits on your head without hurting you, then you can consider it. Also, you can wait for half an hour to check the padding and comfort of the helmet. The main focus should be on the fitment of the helmet when it is securely in place on your head.
4. Certification
While the selection of your helmet, you must look for the ISI mark on the back of the helmet. The Indian Standards Institution (ISI) mark suggests that this product follows all safety guidelines of the government. You must need to look for safety ratings like DOT and SNELL while buying dual sport helmets. They are more stringent compared to ISI that follow internationally.
5. Ventilation
Ventilation in your helmet helps in the flow of air from the helmet. No doubt, an open-face helmet has a good airflow system. Full-face helmets provide good ventilation and maintain aerodynamic airflow by incorporating specific design features. You should look for adjustable vents that help to control the amount of airflow based on weather conditions.
6. Visor
A visor is the front part of the helmet that helps to look out the outer area. It protects your face from air, dust, and sound. You should go with a transparent visor with an anti-scratch and dustproof coating. But sunlight can affect transparent visors so you can look for a visor with UV protection. Also, a pin-lock system helps to customize your visor better. You can easily add an anti-fog layer and anti-scratch screen to it.
7. The Material is Buying the Right Helmets
Helmets are usually made from fiberglass composites and high-end models build with carbon composites. The interiors of helmets are typically equipped with cushioning and air mesh materials to absorb sweat, maintain cleanliness, and make them comfortable. These materials have easy to use, lightweight, durable, and high strength. It is advisable to avoid purchasing helmets made of plastic. Typically you can use a good helmet for 3 to 5 years.
Conclusion in Buying the Right Helmets
So, safety and comfort are two main features that you should look at before buying a helmet. You need to make sure the helmet fits your head size and shape correctly. For that, You can measure your head to figure out the right size. There are a variety of helmets to choose including full-face, half-face, modular, off-road, and so on. You can wear it for bout half an hour to check the comfort. You can also look for other important features like durability, ISI mark, better visor, material quality, etc.
FAQs
Why is wearing a helmet important?
When you wear a helmet during ringing, it can reduce your head injuries. It protects your head while you fall from a motorcycle. 
How do i determine the right size for a helmet?
To measure your head shape, you and your friend can use tape to determine your head size. The tape measure should not be too tight or too loose. 
How should I clean and maintain my helmet?
Anyone can use mild soap and water to clean their helmet. Gently scrub the outside and inside with a soft cloth and let it dry naturally.
is there any difference between clear and tinted visors?
Clear visors are transparent and let you see clearly during the day. Tinted visors are a bit darker and help reduce glare from the sun. However, it may be harder to see at night with a tinted visor. So, you can choose a clear visor with UV protection.
Why should I avoid helmets made of plastic?
Plastic helmets are not as strong as helmets that are made from other fiberglass and carbon materials. For better safety, you can choose a stronger, more durable, and more comfortable helmet to keep you safer.