Adding Bluetooth to your Motorcycle helmet can be very helpful for easy communication during riding. Bluetooth headsets don't just add fun to your ride but also make you safer during riding. You do not need to stop for calls or messages at lights. Also. you can get live updates about roads using google maps.
There are many benefits of Bluetooth that can improve your riding experience. But we were all have confusion that which one we need to buy. Here, we tell you about the features of checking while buying a Bluetooth motorcycle helmet. Is this motorcycle intercom system good for a large group of riders?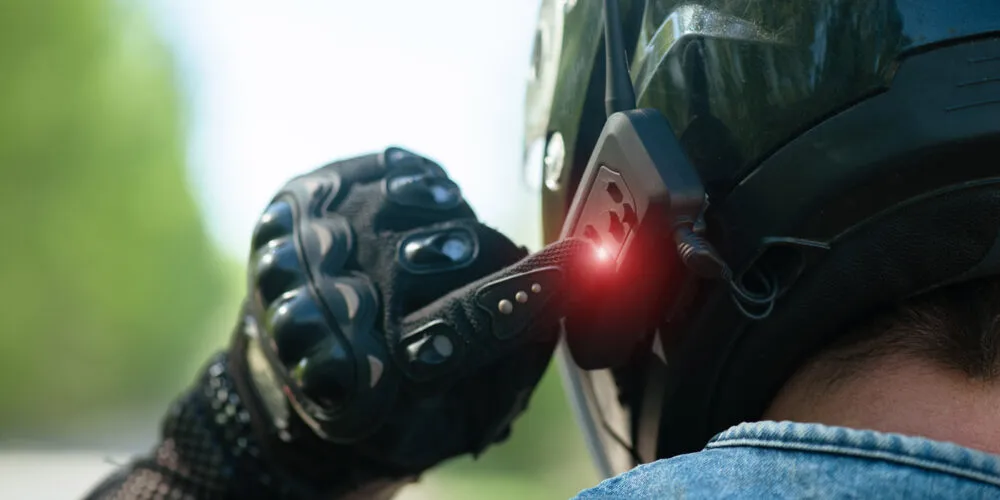 Read Also: Best Bluetooth Motorcycle Headsets
What is a motorcycle helmet Bluetooth headset and how do they work?
A motorcycle helmet Bluetooth headset is a device that helps you to stay connected while riding. This is also known as the motorcycle intercom system. You can install this device into your motorcycle helmet.
This motorcycle intercom system helps you to attend calls, receive navigation instructions, and listen to music. These headsets have buttons for control including volume, on/off, audio play, and otter.
They help in improving both communication and safety. You can pick up your call without stopping your bike. Even if you are riding a bike at high speed.
Things to consider during purchasing a Bluetooth headset
There are many available brands that make the best quality motorcycle intercom system. You can go online to check available MIS. But the more important to get an understanding of it. To make the right purchase for a Bluetooth headset, you just need to keep in mind these things.
Value & Price
I always looking for a gadget that provides the best value at an affordable price. You need to choose a motorcycle intercom system that provides the all required feature in your budget. You should always look for a branded headset. A premium headset can be high in price but they provide complete comfort and features. Always compare various headset products and check their reviews to make sure the right value for your investment.
Number of riders in the group
You need to consider the number of riders in your group while buying a motorcycle intercom system. Always choose a headset with multi-rider connectivity support. This feature helps to provide seamless communication between all members. All the group members can share updates, locations, and issues on calls.
Range
The range is an important factor that refers to how far apart you can communicate easily with good audio quality. A longer range provides you with more flexibility and freedom during your ride. It is important to make sure you will not face any dropouts during the call. A higher range connectivity is quite important to improve both safety and convenience.
Battery
Do not compromise with the battery while buying a headset. Most of the cases, you will not get enough electricity to make sure charging of your headset. Always prefer to buy a long-lasting battery to keep connected throughout your ride. You can look for headsets with extended battery life to increase your battery during your longest rides.
Also, make sure the devices should be charged quickly to avoid interruption.
Helmet Integration
The motorcycle headset devices should comfortably fit into your helmet without causing discomfort of the helmet. During higher speeds, they can fall down during the ride.
A properly fitted headset also prevents distractions caused by constant adjustments. Prioritize comfort, safety, and style by choosing a motorcycle intercom system.
Ease of Use
The last thing you want while riding is a complex gadget that distracts you. You should look for a good headset that you can manage easily without removing your gloves. Also, you can answer your calls and change settings within a few clicks.
Additional comfort features
You can also look out for additional features with a headset. The sound quality is important to look at in a headset with noise cancellation. Go with a lightweight headset because a heavy headset can cause strain during extended rides.
The mic quality is also important to make clear communication during high speed. This device is also able to connect to your phone.
What is the difference between Airpods and headset?
AirPods is a good idea but it is not good for riding. Look out for the pros and cons of both.
Headset:
Pros:
Enhanced sound quality and noise isolation
Ideal for longer rides
Boom mics for clearer communication
Noise cancellation for better listening
Cons:
Bulkier and less minimalistic
More noticeable while wearing
Earpods:
Pros:
Compact and lightweight
Minimalistic look
Suitable for shorter rides and urban commuting
Convenient and easy to use
Cons:
Sound quality may be slightly inferior
Limited noise isolation
Less advanced communication features
Battery life may be shorter than headsets
We can say the headset is dedicated to riding.
Conclusion
A motorcycle headset is the best option for riders. It is not for enjoying the ride, this provides you safety during the ride. You can make good connections with your group members to discuss direction, conditions, and problems.
As a smart rider, you should always prioritize value, range, battery life, and comfort while buying the headset. Always look for a premium headset to get the best features with comfort.
FAQ's
How does a Bluetooth-equipped helmet improve rider safety?
A Bluetooth-equipped helmet increases the safety of riders by eliminating the need to handle devices during riding. Riders can maintain focus on the road including answering calls, receiving navigation instructions, and communicating easily.
What are the advantages of noise cancellation technology in Bluetooth helmet headsets?
Noise cancellation technology helps to reduce wind and road noise during rides. So, you can make clearer communication without distraction. This is vital for staying connected in various environments.
What are the two most important features that we can't neglect?
Generally, all the features are important but the most important are clear communication and ease of use. Always prefer to premium-quality sounds in a comfortable environment. 
Why is it important to choose a multi-connectivity device?
Opting for a multi-connectivity device helps to communicate within a group of riders. It provides real-time updates, sharing information, directions, and seeing help.