Bluetooth headphones are a great accessory for motorcyclists. From a rigid communication device to a multimedia set, there are many different types of Bluetooth headphones for motorcycles. It is easy to be surprised by so many benefits. That's why we've listed the best Bluetooth motorcycle headsets in this post!
We have categorized these Bluetooth headphones according to their main strengths and weaknesses. Not all Bluetooth headphones are designed for a particular type of rider, so we made a special effort to create this post.
If you're in a hurry, we've put together a comparison table of the best Bluetooth headsets for motorcycles
Read Also: Best Motorcycle Jackets
List of Best Intercom for Motorcycle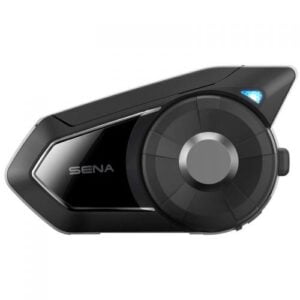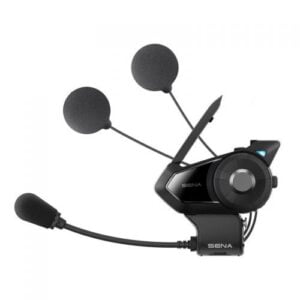 If the most important thing about a motorcycle Bluetooth headset is the range and stability of the intercom, then Sena's latest trip will itch. The Sena 30K is a powerful intercom with the implementation of Natural Mesh technology that works extremely well.
The maximum intercom range is 8 kilometers, which supports an unlimited number of drivers. The catch is that six riders can talk at once, and the distance between each rider is 2 miles (2 kilometers). If someone comes out of range, competitors can rejoin when they return to range without having to rejoin by hand.
The Sena 30K is very compatible with other Bluetooth headsets, making it the best Bluetooth headset if you are looking for the best intercom. Easy to use with built-in voice command support.
The sound quality is average and not in the same range as the new Cardo headphones. Be prepared to spend a fortune on this headset, but it's all worth it, at least on the best intercom!
PROS:
Fits most helmets
Awesome Mesh performance
Compatibility with other headset brands
Ease of use
Ambient Mode is an excellent addition
CONS:
High price
No waterproof certification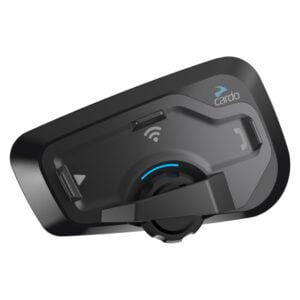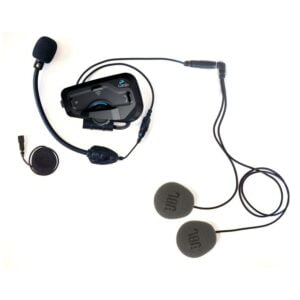 If you're a fan of sound filtering and the most important thing about a motorcycle Bluetooth headset is sound quality, then there's nothing like the Cardo Freecom 4 Plus!
With the addition of an upgraded JBL 40mm speaker, Cardo has delivered stereo sound quality that no other product on the Bluetooth headset market can match. The enhanced bass and treble work together to deliver superb sound quality, even when driving above 40 mph. In addition, the noise cancellation function works well to filter out external noise.
When it comes to the intercom, you can connect with 4 riders at once. Maximum range is 1.2 km, which is reasonable, but there are even better headsets for intercom. Some bugs affect intercom functionality, such as accidentally stopping the device when connecting to a Cardo device.
Like other Cardo headsets, the robust voice command system is strong and efficient.
The battery is solid and offers 13 hours of talk time as well as 4 hours of charging time.
All in all, the Cardo Freecom 4 Plus is currently one of the best Bluetooth headphones when it comes to stereo sound. If you are looking for basic headphones for sound, this is the one to buy!
PROS:
Superb sound quality
Very high durability
The music sharing feature is handy
Great battery
CONS:
Low effective intercom range
High price
Intercom connection isn't the most stable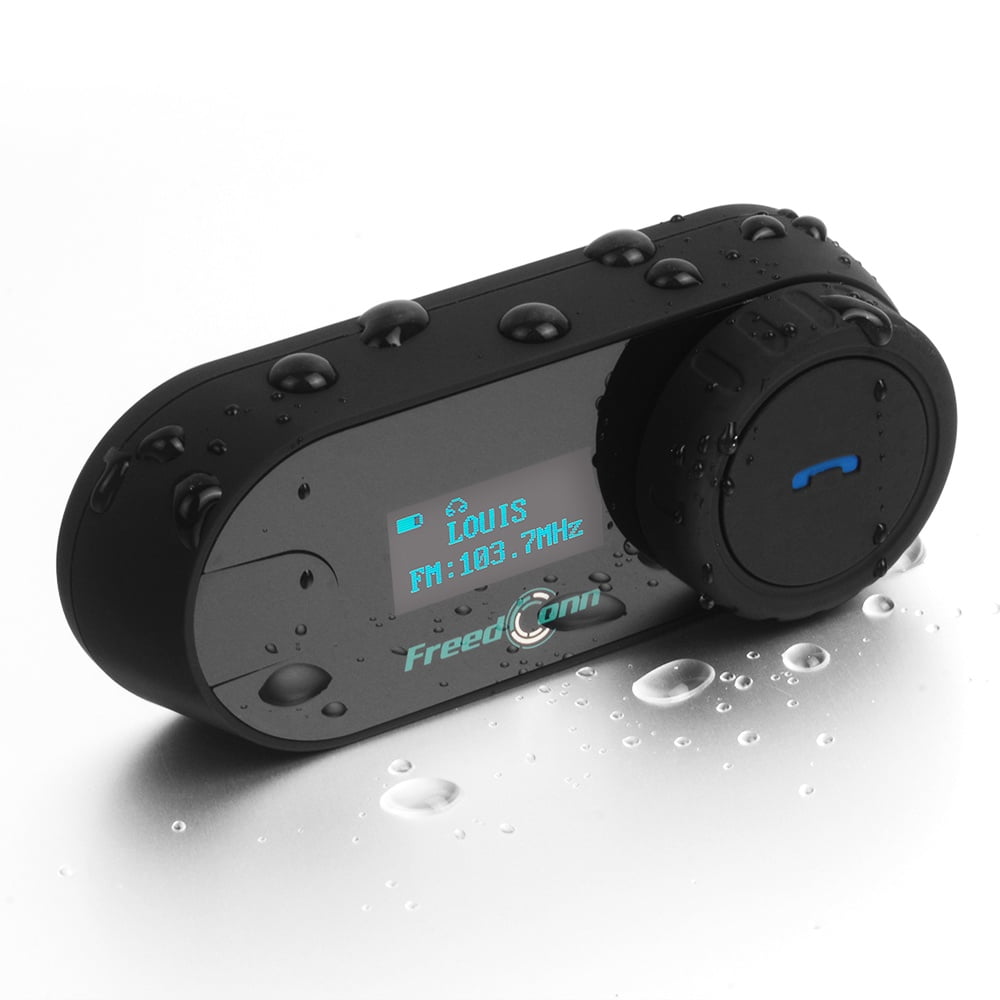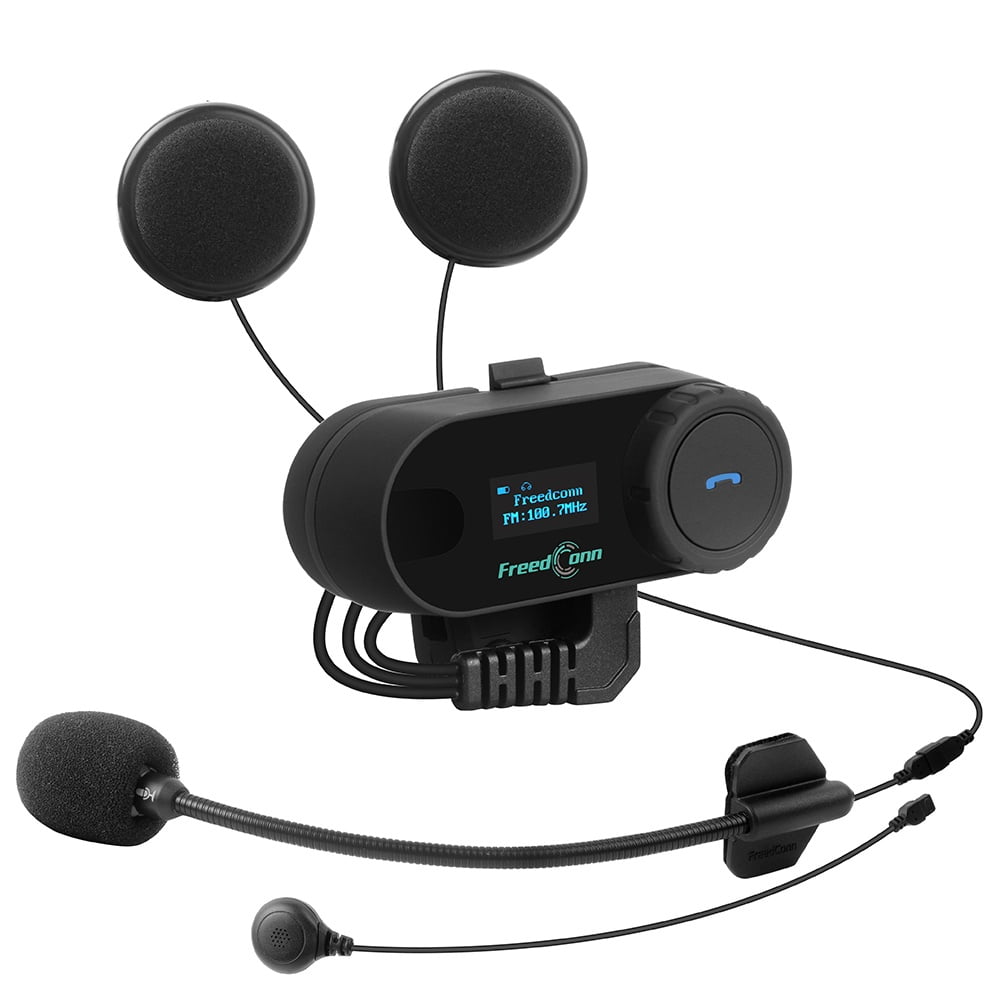 For under $100, FreedConn TCOM-SC offers a wide range of pocket-sized features.
First of all, while the design may look like an MP3 player, the space is large as well as the waterproof and dustproof quality. The battery lasts for 8 hours of talk time, while charging takes two and a half hours.
The intercom was made with the driver in mind. Its length is 0.5 km (800 meters), which is not much. But when you consider how riders can ride, it makes sense.
The listening experience is pretty good, as the sound quality drops sharply when you run above 80 km / h. But if you drive below this speed, you can hear a good balance between bass and triples in the game.
The biggest problem we had with the FreedConn TCOM-SC Bluetooth headset was that users could not use the smartphone assistant to compensate for the lack of a built-in voice command system. However, this headset is relatively good for its price and will satisfy the average user who wants a good Bluetooth communication system for the headset.
PROS:
Great intercom for a pair of riders
Durable build
Budget-friendly
Good sound quality when it works
CONS:
No voice commands
Disappointing sound quality at most times
No smartphone voice assistant support
Low intercom range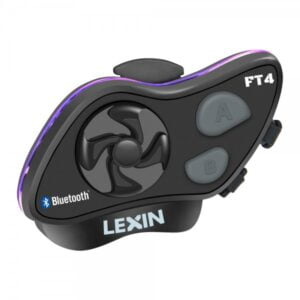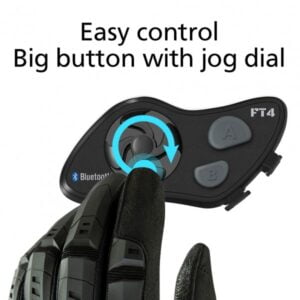 The Lexin LX-FT4 is one of the most cost-effective Bluetooth motorcycle headsets on the market, both in terms of price and overall functionality. If you are still looking for affordable Bluetooth headphones, then this is the best!
With a simple pairing process for your smartphone or other Bluetooth headset, you're all set up in minutes. The interconnection distance is 0.62 miles (1 km), which should provide a decent inter-computer experience for a strict group of riders.
However, the sound quality could be better as the emphasis is on the trio and almost no bass with the log speakers. They also have no noise reduction. The microphone is also a bit lacking, especially when it comes to more wind noise. This Bluetooth motorcycle headset does not have a dedicated voice control system, but you can always use your smartphone's voice aid with this.
Lexin LX-FT4 is a very durable headphone with water resistance and solid construction. Extremely long battery life with 15 hours of use on a single charge. Basically, the Lexin LX-FT4 is good on all fronts but not invincible. But it gives a lot of value for such a cheap Bluetooth headset!
PROS:
Very durable
High value for the investment
Strong battery life
Easy pairing process
CONS:
Sound quality
The range is lower than advertised
No dedicated voice commands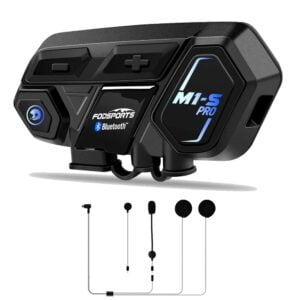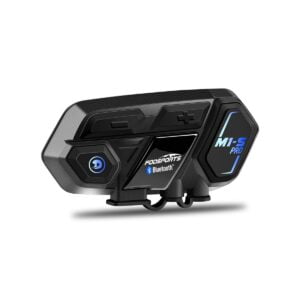 Foot Sport M1S Pro is the best Bluetooth communication system under $ 100 that you can get right now. From the two-kilometer intercom range and highly compatible devices to the incredible sound quality close to Cardo quality, this is a valuable and cost-effective option.
However, some sacrifices had to be made to justify the lower than average price. First of all, it doesn't have a special vocal system that most Cardo and Sena headphones have. You can still connect this Bluetooth headset to your smartphone and use the dedicated voice assistant.
Durable construction and powerful battery go hand in hand with the powerful software features of these Bluetooth motorcycle headsets. A group of eight riders can connect to the intercom and, although they are out of range, the connection technology is here to stay.
If you're looking for the most cost-effective Bluetooth motorcycle headset, you can't get anything better than Foot Sport's M1S Pro right now.
PROS:
Amazing bass and overall sound quality
Strong battery
Waterproof and dustproof
2 km of intercom range
Great value for the money
CONS:
High winds and high speed hurts the sound quality
A lack of built-in voice command function
No built-in FM radio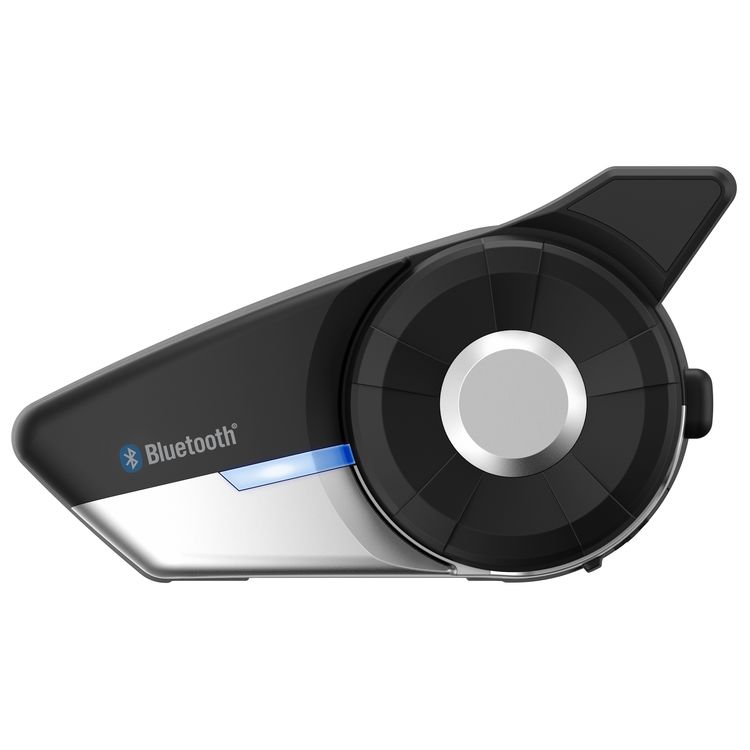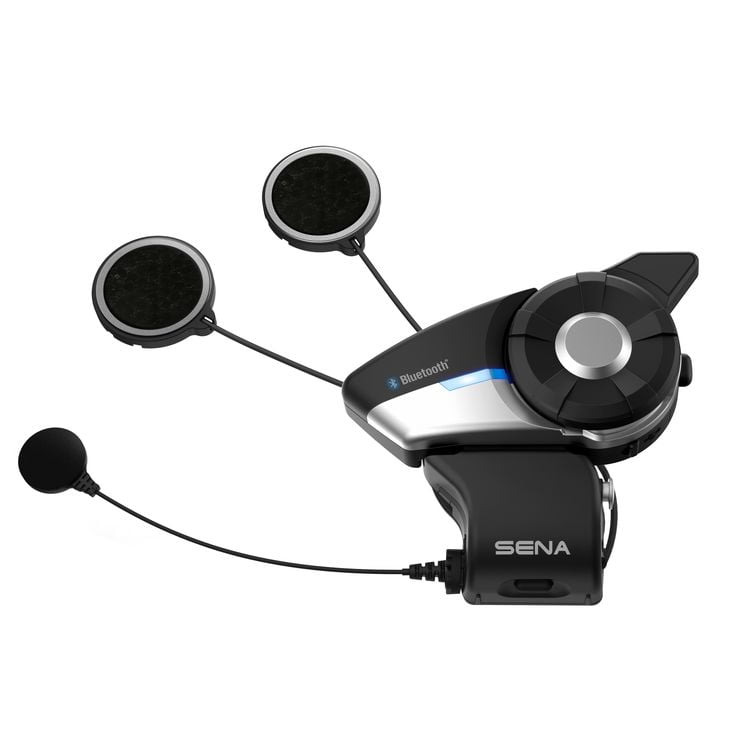 Sena makes exceptional headphones with high-quality headphone jacks and the 20S Evo is no different!
Using most Bluetooth 4.0 technology, you can connect the 20S Evo to 7 different headphones. After connecting with other pilots, the intercom will be 2 km. The best thing about this intercom is that eight people in an intercom can talk at the same time. Most connection issues are here initially with the latest firmware update.
Sound quality gives the sound of the speaker perfectly, as well as a good combination of bass and treble. It also has noise control that can give you the sound of the air outside your head.
Like other Sena devices, you can use the powerful voice control system for a realistic experience. Battery life is impressive with 13 hours of talk time.
Unfortunately, the Sena 20S Evo doesn't come with a mesh, which is a good thing right now. However, for non-networked devices, no other Bluetooth headset has the intercom feature.
PROS:
Eight riders can join the intercom
Amazing battery
Voice command support
Excellent intercom range
CONS:
High price
No Mesh technology support
A lack of waterproof certification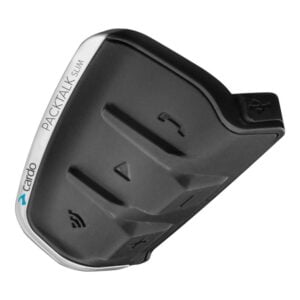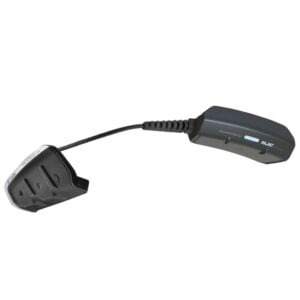 Cardo has really lost it when it comes to Packtalk SLIM Bluetooth headphones. With the integration of Dynamic Mesh technology, you can talk to up to 15 drivers in a PTT group within 8 km. Dynamic Mesh is impressive because it increases the overall communication area and automatically helps to reconnect to something!
The JBL 40mm speaker ensures that the sound quality is among the best on the market and supports deep bass. Not to mention the advanced noise control implemented in the microphone. Bonus is the ability to share music with participants via the intercom.
The hands-free experience is the best in the Bluetooth motorcycle headsets market thanks to the voice-assisted reception system. Up to 13 hours of the above functions can be used due to the fixed battery.
If you are looking for the best Bluetooth headphones for, the Cardo Packtalk SLIM is easily the best choice thanks to its premium features and many useful features. It will cost you a lot of money, but it is a bargain if you want a "jack of all trades" Bluetooth headset.
PROS:
Excellent sound quality
Dynamic Mesh technology
Awesome intercom range
Waterproof and dustproof
A very responsive and robust voice control system
CONS:
Hard to transfer to another helmet
High price
The sound quality in windy conditions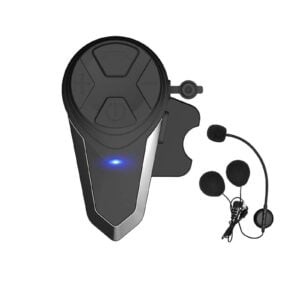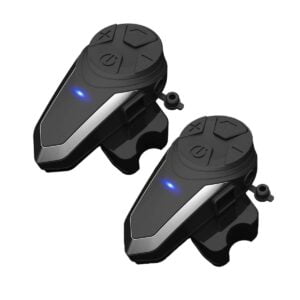 THOKWOK BT-S3 is priced at almost $ 50 and it was a pleasant surprise to see the headphones full of so many features. Even though it offers a maximum range of 800 miles for a group of 4 pilots, it is still an achievement considering the price.
What is missing in the intercom system offers another possibility. These waterproof Bluetooth motorcycle headsets come with a high-quality audio experience that delivers excellent bass.
It also has dedicated voice control, which is perfect for a hands-free experience. You can also connect Bluetooth 3.0 to your smartphone for GPS guidance, music listening, or continuous calls.
The battery life is quite strong and can last 8 hours of talk time with 3 hours of charging. Overall, the THOKWOK BT-S3 is a useful package for users who do not want to spend money on Bluetooth headsets for motorcycles and are disappointed.
PROS:
Waterproof
Costs under $50
Excellent sound quality
Simple to install
Voice control function
CONS:
Short intercom range
Lack of Mesh technology
Sound quality falters over 40 mph speeds
---