The Spidi Track Wind Pro Race Suit is made of 1.2mm-1.3mm Italian full-grain perforated cowhide and has flexibility panels and neoprene inserts for added comfort. Elbow, shoulder, knee, and hip armour are all available. The Track Wind Pro includes a rear pocket that can accommodate a back protector and front chest snaps that can accommodate a chest protector.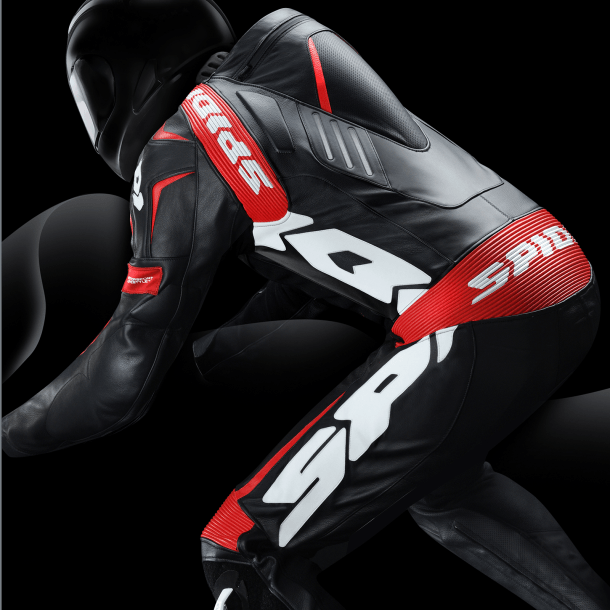 Product Details and Quality
The Best Spidi Track Wind Pro Race Suit is the ultimate blend of features and reliability, thanks to Spidi's MotoGP and Superbike experience. This suit is composed of Italian 1.2/1.3mm thick bovine leather mixed with stretch material structures and neoprene inserts for perfect pleasure.
It is equipped with several innovative solutions tested in the MotoGP competition. Eight certified protectors (from the Multitech, Force Tech, and Biomechanic series) can be used in conjunction with the Warrior Chest and Warrior Back protectors, which are certified level 1 or level 2, to give the highest degree of protection.
The inclusion of a detachable mesh lining provides the suit with an entirely racing declination: an essential aspect for being able to wash and dry the suit rapidly, even after each test session.
Features:
Protection and certification
The Spidi Track Wind Pro Racing Suit comprises a 1.1 to 1.3mm thick cowhide.
At the elbows, shoulders, and knees, there's CE-approved Level 1 protection — at the knees, it's super thick, dense foam, but I've found it neither obtrusive nor uncomfortable.
Read Also: Best Motorcycle Jackets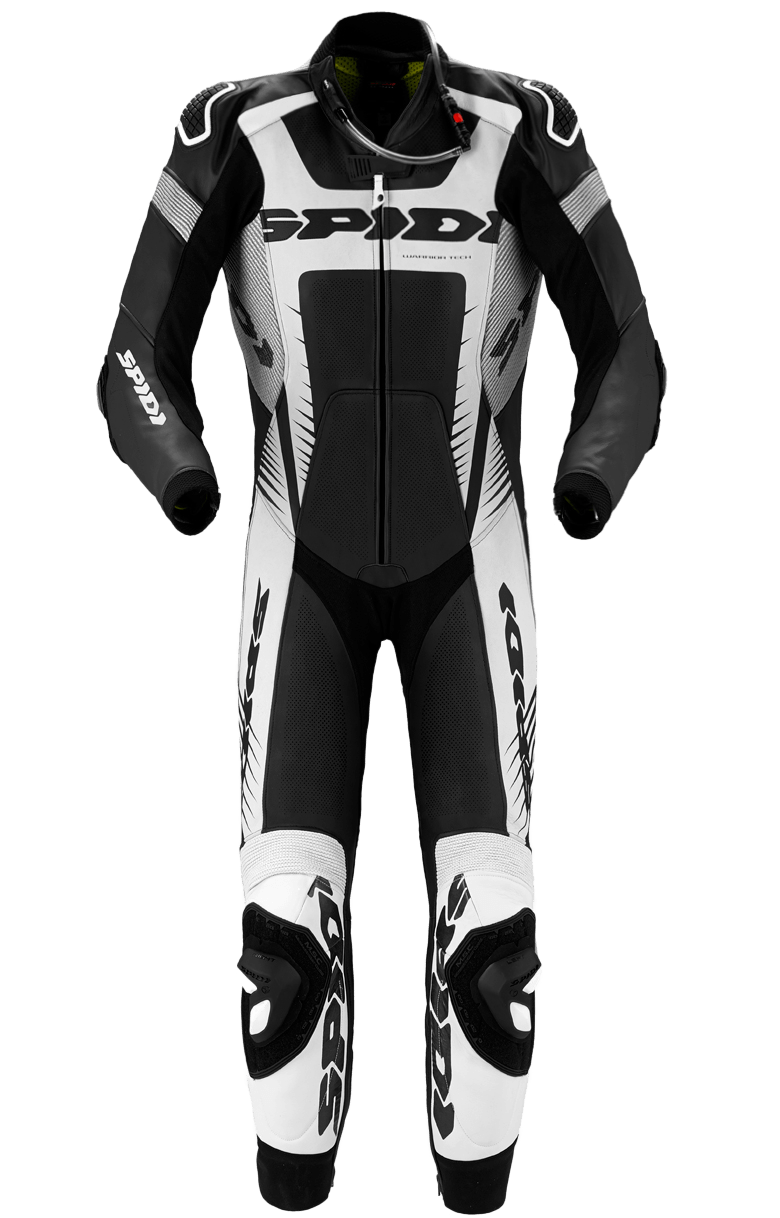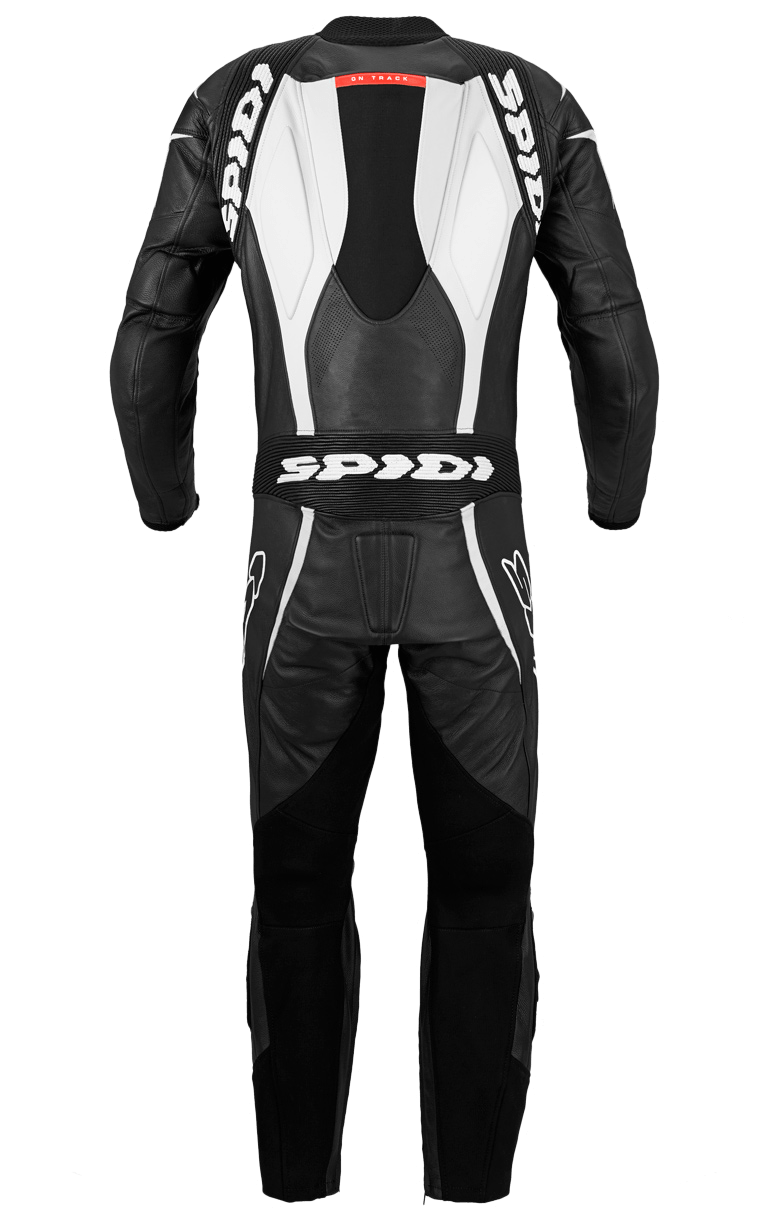 Technical Features:
Full-grain Italian cowhide leather (1.2-1.3mm)
The racing hump will accommodate optional Hydropack
Removable, washable mesh inner liner with leather-covered Multitech hip protectors
Adjustable height position Multitech knee protectors
CE Force Tech protectors on elbows
CE Biomechanic protectors on shoulders
CE Multitech protectors on hips
Flex Tenax areas in the shoulder, chest, underarms, crotch and calf areas for a perfect fit
Pocket for optional Warrior Back Protector (Lev.1 or Lev.2)
Pocket for optional Warrior Chest Protector
Clarino inserts on the neck area
Neoprene inserts on the neck and wrist area
High-Flow vents on shoulders and back
Our Opinion For Spidi Track Wind Pro Suit
The first pair of these leathers we tried was my usual size, but they were far too tight — we could put them on but not zip them up over our calves.
They're comfy and tight now; the only area with a bit of bagginess is at the bottom, but it's not severe, and they still look amazing. The only way to truly combat this is to invest in more expensive equipment. The fit on the Spidi is superb compared to certain two-piece leathers we used to have.
The shoulders and elbows are protected by a unique armour that combines a slightly curved hard plastic shell with a soft inner part along your body; it fits perfectly and never feels uncomfortable. Given the armour's size, more defensive Level 2 from the likes of D3O may have fit, albeit we are satisfied with what we have.
The Spidi Track Winds have no adjustments because they're a race suit, but we've never needed them. These are generally tight while allowing movement thanks to accordion panels and stretch fabric portions.
The ventilation is excellent – there are mesh vents at the shoulders, but perforated leather panels at the waist, tops of arms, and thighs; we can experience it when moving.
Conclusion on Spidi Track Wind Pro Suit
While these Spidi Track Wind Pro Race Suits have a complicated design, they lack features such as shoulder sliders, which might assist lessen the likelihood of the region gripping in the event of a collision.
They're so unrestrictive that they're a joy to ride in; they're more pleasant, and we are really happy with them — the fit makes them seem nearly like wearing nothing.
FAQ's – Spidi Racing Suit

Does this particular suit have shin armour?
There is armour in the shin area extending from above the puck to about 2″ below the Velcro area. It is enough to pass protection responsibility to the boot.
What Protection Used in This Suit?
The Spidi Track Wind Pro Racing Suit comprises a 1.1 to 1.3mm thick cowhide.
How good is This Suit?
Spidi's expertise in the MotoGP and World Superbike series resulted in the Track Wind Pro Tracksuit, the ultimate blend of performance and design.