Motorcycle types are the important components of your motorcycle Tyres to make your riding experience better. No matter whether you are going for a short ride, a long ride, a running sports bike, and a normal bike. You can't become an experienced rider until know the types.
Types are important and having good knowledge about tyres as per different conditions gives you a more comfortable experience. Many times types can burst due to long heat, so it is important to select a type that fits your riding style.
Here, we will be discussing a total of 5 different types of motorcycle tires for different needs. A particular type is made to handle a particular kind of situation.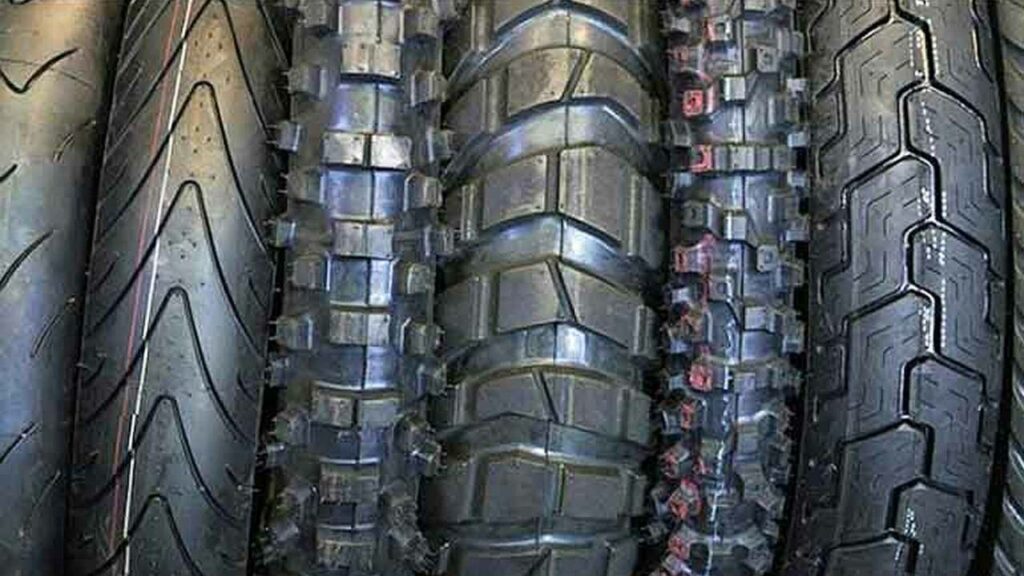 Read Also: 18 Best Dirt Bike Tires
Why motorcycle Tyres are important?
There are many reasons to look for Motorcycle Tyres. Selecting a tire as per your riding style provides a better experience of the journey.
A tire provides a better grip between the motorbike and the road. It provides better safety during modes, brakes, and curved surfaces.
Provides a better experience for your journey by absorbing road bumps and vibrations.
Well-maintained tires provide better fuel efficiency in motorcycles.
Quality tires improve braking efficiency, reducing stopping distances and minimizing the risk of skidding.
Let's understand the type of tires that you can consider for different riding styles.
Understand 5 Different Types of Tyres
There are many different types of Tyres available that you should need to know. Let's understand
1. Dual Sport/All-Terrain/ADV Tyres
Adventure bikes are made for long rides, high-speed, and off-road paths. These types of bikes required tires that can handle different situations. These tires should provide a better grip on high-speed riding. They should be capable to handle off-road situations.
Here, we can use dual-sports tires to ride. They have a bit of smoothness for roads but enough tread for off-road. Dual-sports tires come with a label that indicates their intended use such as 70% offroad / 30% on-road. During purchasing a tire, you should always go with high-quality tires.
2. Sport-Touring Tyres
Sport Tyres are specially made for sports purposes. These types of tires are lightweight and made with high-quality material to handle the heat during fast turns and stops. They are round-shaped Tyres that provide better grip during high-speed rides. 
Some of the tires are flatter in nature which helps to run faster on the road without laying down. They are great for grip but not for long-term use.
3. Cruiser Tyres
Cruiser tires are specially designed to handle heavy bike loads while maintaining stability. These Tyres are built to provide stability, durability, and a good grip on straight roads. 
They also have strong sidewalls to handle the weight of accessories or passengers on the bike. These cruiser tires are mostly used in bikes like Harley Davidson, They often have a distinct tread pattern, sidewall design, and high-quality materials to maintain performance, comfort, and longevity.
4. Supersports Tyres
These tires are specially made with high-quality material to handle a superbike at high speed. These types of tires are smooth, lightweight, and have less air resistance to maintain faster speed during sharp turns. These tires are smaller than touring and adv tires.
If you have a superbike then investing in these type of tires are worthwhile. These are the best option for a fast rider. Many experienced riders also use thermometers to check the heat of tires.
5. Off-Road Tyres
Off-road tires are specially designed for rough terrains like dirt trails, gravel paths, and rocky surfaces. These off-road tires have a distinct tread pattern with deeper and more pronounced knobs.
These tires are built to handle the challenges of off-road riding. They provide better stability, control, and durability in every condition. They are different types of off-road tires available for different conditions such as enduro, motocross, trail riding, and more.
Conclusion
Motorcycle riders must have knowledge about types of Tyres for different purposes. These tires include dual sports, sport-touring, cruiser, and supersport types. If you choose your motorcycle Tyres wisely, it provides a better grip between the motorbike and the road. It helps in better safety during modes, brakes, and curved surfaces. Understand your requirement before 
FAQ's
How do I choose the right type of motorcycle Tyres for my bike?
As a rider, you need to understand your riding style like street, off-road, and touring. The type of bike you have cruiser, and sportbike. Match the tire type (sport, cruiser, dual-sport) to your bike's characteristics.
What features should I consider when selecting motorcycle tires?
Every rider should need to focus on the grip while buying the tire. You should choose a tire with size compatibility, load and speed ratings, and brand reputation. Your tires should provide balance, performance, durability, and safety.
How can I determine the appropriate air pressure for my motorcycle?
The air pressure depends on the type of motorcycle and where you are riding this motorbike. Proper air pressure provides better stability, pressure, and grip on the road. 
What are the benefits of opting for Premium motorcycle tire brands?
Premium brands are works on their quality to maintain brand value. They offer better grip, longer lifespan, and improved performance. A better tire provides better safety at high-speed without laying down.
How often should I replace my motorcycle tires for optimal safety?
A motorcycle is generally required to replace tires every 5,000 to 10,000 miles. There are Other factors like riding style, road conditions, and tire wear also affect this.