The freedom of the open road and improvisation are abundant on long-distance motorbike journeys. These characteristics keep riders coming back to the roadway. The breathtaking views and wind on their faces are intoxicating to riders. The first time new riders go on a longer ride, they'll be hooked. It is especially true if they go on a trip with friends. Those fortunate enough to own a motorcycle purchase motorcycle gear for long-distance riding, a big part of the motorcycle experience.
Whether you ride a dirt bike or a touring model, exploring new landscapes is an enjoyable experience that can't be replicated in your backyard. Fortunately, no matter the type of motorbike you ride, there are numerous ways to customize it for convenience, range, and style.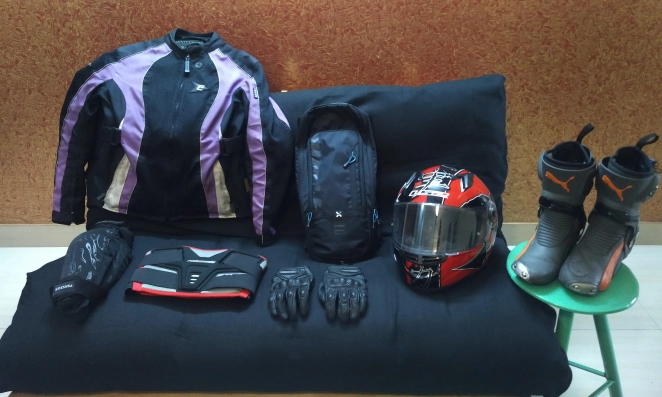 Read Also: How to Choose the Right Gear to Beat the Summer Heat
Must-Have Motorcycle Gear For Long-Distance Rides
1. Bike Seat
The seat is the first item you should adjust when outfitting a conventional motorbike for longer excursions. Long trips can be made more comfortable with an extra pad, which only costs a few dollars.
However, if you want to ride in pure luxury, you might want to think about getting a memory foam improvement or a whole replacement. Installing a fresh memory foam cushion will maintain your riding posture rather than using an add-on pad to increase comfort in your seat. It prevents the need to modify your riding style or physical approach to the process of driving.
2. Bluetooth helmet system
Motorcycle riders who want to enjoy the open road while listening to their favorite playlists, podcasts, or even voice directions from their phone or GPS should strongly consider a Bluetooth helmet system. Thanks to Bluetooth connectivity, access to many devices is now seamless and simple.
Motorcycle owners now have the option of adding Bluetooth headphones to their helmets. It is not a consideration to fiddle with an earpiece when wearing head protection and worrying about dropping it.
These tools also make taking calls a breeze without stopping to talk to someone. This entertainment, communication, and navigational accessory make long-distance driving more pleasant.
3. Install new, larger footpegs
Your feet are one of a few important aspects that affect how you are sitting, and this lower point of contact greatly impacts how comfortable you feel overall when driving.
Tiny footpegs can be overlooked on a racer-style motorbike that prioritizes sleek lines and a slim shape over other stylistic alternatives for a brief trip. However, large foot pegs that allow for mobility and adjustability in your grip are essential for touring bikes.
With larger foot pegs, you can freely reposition yourself on the motorcycle while riding. A wider foot peg is a good option for bikers who frequently travel off-road.
4. Emergency communication system
Many bikers utilize their phones as GPS and communication sources while riding. It makes sense to think about a vibration-dampening mount accessory for the best navigation experience with your phone. However, you can encounter more serious circumstances when your phone is insufficient. If you're involved in an accident, puncture a tire in a region with bad reception, or run out of gas, a more substantial SOS signaling resource is necessary.
To supplement their current calling capabilities, many long-distance riders never leave the house without an emergency communication system. Emergency communicators frequently utilize satellite relays and come equipped with either sophisticated two-way communication options or a single button that works practically anywhere.
5. A flat repair kit and air compressor
Finally, all motorcyclists must pack an emergency tire repair kit. Unlike a car, your motorcycle doesn't have a compartment for a spare tire. Therefore, riders should maintain and fix their wheels when a problem manifests. In order to withstand the punishment of the many miles of road between a rider and the end of their journey, the traditional touring tire includes belts or cords within and a purpose-built reinforced outer layer.
It means that a tire can be repaired and reinflated in most cases. A flat repair kit is a reasonably small addition to your bike's storage compartments and should always be carried even while traversing local roadways or during your daily commute.
Although a little more difficult, a portable air compressor can prevent a serious headache and numerous hours of delay during a puncture. Repairing and reinflating a flat tire is a procedure that will take minutes if you carry the right equipment.
Conclusion
Choosing the right motorcycle gear for long-distance rides is crucial to ensure comfort and functionality. When embarking on a long journey, it is essential to have gear that can protect you from the elements, provide adequate ventilation, and help you maintain a good posture. Motorcycle gear is all designed to enhance your riding experience and keep you safe on the road.
FAQs
What gear is essential for long-distance motorcycle rides?
Essential gear for long-distance motorcycle rides includes a helmet, jacket, gloves, boots, and pants. These items are designed to keep you safe and comfortable on the road.
What should I look for in motorcycle gear for long-distance rides?
When choosing gear for long-distance rides, you should look for items made from high-quality materials, have good ventilation, and are designed to provide maximum comfort and functionality.